create an unforgettable event with us!
We are your Bounce House & Party Rental Specialists!
We are your local go-to for bounce house, inflatable, and party rentals servicing Northern Virginia and surrounding areas.
We have everything you need to throw unforgettable, once in a lifetime events. Whether it's in your backyard or a huge corporate event, we specialize in making sure your event is a fun, stress free experience from start to finish. 
Keeping Your Family Safe!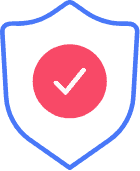 We honor and value your trust in our service and equipment. We are dedicated to providing our customers with properly cleaned and sanitized rentals each and every time.

Sweep
All Dust, Dirt, & Debris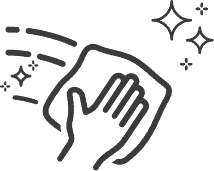 Deep Clean Unit
with Cleaner & Sanitizer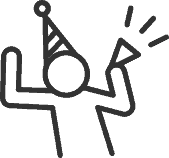 Clean, Sanitized &
Ready for Fun!
We are your #1 source for inflatable and party rentals. We pride ourselves in providing the absolute best "bounce" for your buck in the industry. With every bounce house rental and every event rental, we focus on providing world-class service so you can focus on having FUN.
We also pride ourselves in providing clean and safe rentals at the most competitive pricing around. Each unit is cleaned and sanitized after every rental to guarantee your safety and satisfaction.  We always follow the strictest safety guidelines and we absolutely will not sacrifice your safety for business. EVER. 
When we say your satisfaction is guaranteed, we mean it. If we didn't cover your type of party or event, please feel free to give us a call or message us on our Contact Us form. We will promptly respond with any necessary feedback.
Nana Ofori-Ansah
2023-09-19
We had a great experience with them. They were professional, on time and the bounce house clean and in good condition. I would definitely recommend them.
Tedra and Anthony were absolutely amazing, If I could give more than 5 stars I would. I ordered a water slide for my 9 year old, to my surprise and mom brain it was too small for the bigger kids, I contacted tedra and felt so incredibly bad because Anthony had already set it up, they accommodated me and helped me pick out a bigger slide without hesitation. To our surprise, we also ordered a smaller moon bounce from a different company and they never showed up, when we contacted tedra about this and asked how we could go about getting a smaller moon bounce for the smaller kids, she allowed us to keep the smaller one we already had that I accidentally ordered from the beginning. They accommodated all of our wants and needs, when they really didn't have too and for that I'm so glad I found and picked bounce beyond. The day started out with a rocky start but ended with 30+ happy and smiling kiddos. If highly recommend them to anyone, they're kind, sweet, heartwarming people. I've found a forever company to help make my children's parties a fun time for everyone!
Absolute great customer service. The setup was professional and excellent. The kids had such a great time. I highly recommend this team for your next party! Family owned and operated! Veteran owned! Thank you guys again, we will be using your services in the future!
Building Bridges Box
2023-09-11
Wow, top notch customer service! The kiddos had so much fun. They are great to work with, fast, efficient and nice. Thank you for making my boy's birthday a memorable one. -Monica D.
Had a great experience! Got a call and they were super friendly and worked with me to find something that fit my budget. They even got me quotes from other companies near me. Would highly recommend!
I strongly recommend renting from Bounce Beyond. They were on time with everything from measuring our yard to make sure it would fit, to showing up two hours prior to our event time giving us an extra 2 hours with the bouncy house which was amazing. They explained everything in detail about the bouncy house & the rules while using it & if the day was canceled from bad weather & how it we would go from there. We will definitely be using them again next year for our sons birthday party. Thank you Anthony & Tedra for an amazing memorable day for our family.
Everything was great with our rental! From initial communications and contract agreement to the setup and final removal, excellent service was provided. The setup included spraying the bounce house for cleanliness and testing the water connections to make sure everything was functioning properly. Delivery and removal occurred as promised, efficiently and timely. We will definitely contact Bounce Beyond for future event needs.
Very professional, courteous and attentive throughout the whole process. We rented a water slide for my child's birthday. It was a hit made possible by the Bounce Beyond team. I would highly recommend d them for your next event of party.
We used Bounce Beyond for a big family event and we rented the obstacle course. We were very impressed with the set up and pick up. Everything was very seamless and no issues. We highly recommend this company for any bounce rental needs.
Bounce House Facts
The first inflatable structure was designed in 1959 by John Scurlock in Shreveport, Louisiana who was experimenting with inflatable covers for a government request for proposal when he noticed his sons enjoyed jumping on the air structure. He was an electrical engineer and liked physics.